The Invocation
When I attended the International Sufi Summer School in Katwijk, the Netherlands, a view years ago, one of the afternoon sessions was started with the invocation, all participants standing in a circle. Then a representative of each of the attending countries spoke the invocation: "Towards the One, ... ", in their own language and their compatriots joined them. This appeared an enormous impressive happening to me, which moved me to tears. I do not know what exactly happened but there was such a strong feeling of connection and connectedness that I never experienced before.
Now, working on a sermon on the theme of 'Connectedness' I thought of collecting the invocation in as many languages as possible and make it available to the Sufi community and all those who might be inspired by it.
I thank all those who were so kind to supply me with the texts of the invocation in their own language !
If your language is not among them I would appreciate if you could send the text of the invocation in your own language to me so that I can put it on this page.
My e-mail adress is at the bottom of the page.

Toward the One
the Perfection of Love, Harmony and Beauty,
the Only Being,
United with all the illuminated Souls,
who form the Embodiment of the Master,
the Spirit of Guidance.
This is the invocation in German:
Dem Einen entgegen,
der Vollkommenheit von Liebe, Harmonie und Schönheit,
dem einzig Seienden,
vereint mit all den erleuchteten Seelen,
die den Meister verkörpern,
den Geist der Führung.

sent by Kaivan
This is the invocation in French:
Vers l'Unique,
la Perfection d'Amour, d'Harmomie et de beauté,
le Seul Etre,
Uni ŕ toutes les âmes illuminées,
qui forment l'incorporation du Maître,
l'Esprit-Guide.

sent by Jamila
This is the invocation in Spanish:

Hacia Uno
La Perfección de Amor,
Armonía y Belleza, el Unico Ser,
unido con todo el iluminó almas,
que forma la encarnación del Amo
El Espíritu de Guía.
This is the invocation in Italian
Verso l'Unico, la Perfezione d'Amore, d'Armonia e di Bellezza
il solo Essere,
unito a tutte le Anime Illuminate,
che formano la personificazione del Maestro, lo Spirito Guida.
This is the invocation in Hebrew:
Likrat haachad
Shlemoot
Haahava, Hashalom, Veratiferet
Hayachid
Hameoochad im kol
Haneshamot hakeoshot
Hameatzvot et Hitgashmoot haor
(Hasod)
Rooach hahadracha
This is the invocation in Arabic:
Tijah Al-Shakhs
Kamal
Al-Mahabba, Al-Wifak,Waljamal
Al-Shakhs, Al-Wahid
Muttahid Ma'Alkul
Al-Arwah Al Munira
Al-Lati Tushakkil Tajseem
This is the invocation in Greek:
Προς το Ενα,
Την τελειότητα της Αγάπης, της Αρμονίας και τής Ομορφιάς
Το μοναδικό Όν
Ενωμένοι με όλες τις φωτισμένες ψυχές
Πού αποτελούν τήν ενσάρκωση τού Ενός
Του καθοδηγητικού Πνεύματος.
sent by Aziz Dekeuliaz

Here is the invocation in Danish - from Denmark:

Henimod den Ene, fuldendt kaerlighed, harmoni og skoenhed, den eneste
vaeren, forenet med alle de oplyste sjaele, som legemliggoer
Mesteren, Aanden der vejleder.

sent by Nini Fatah Leick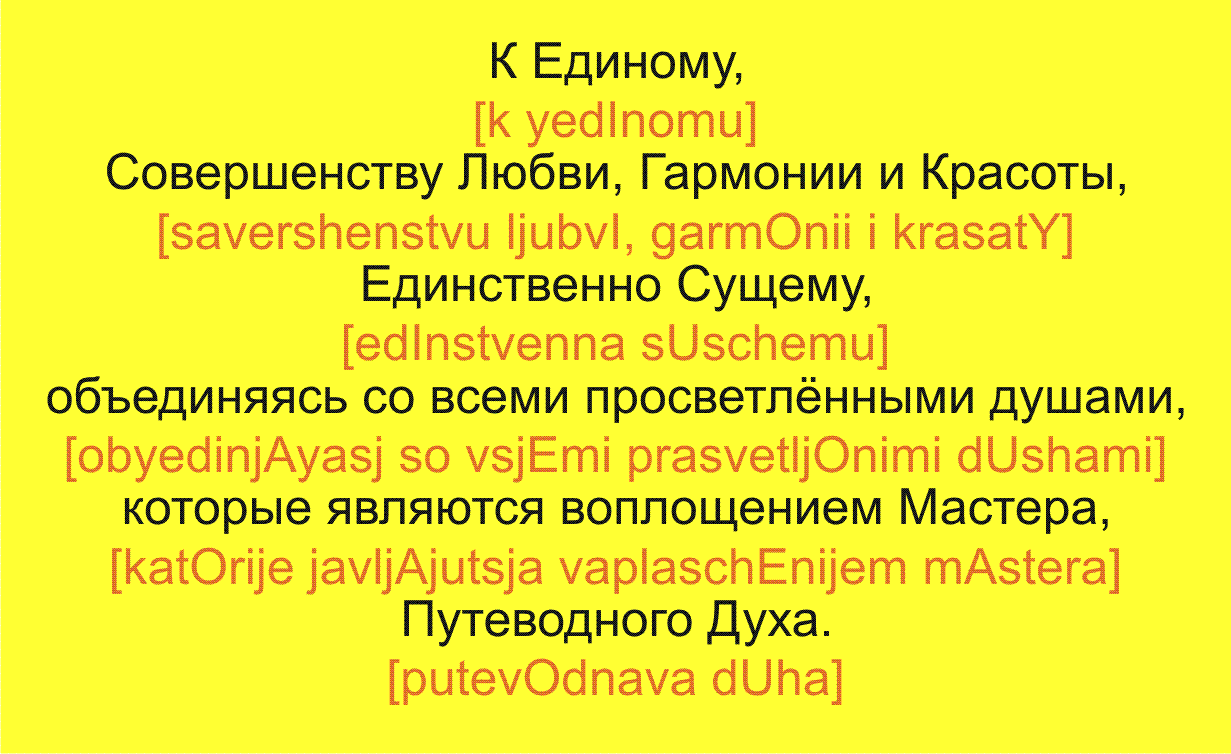 _sent by Vitalija Hayat
in Dutch:
"Tot de Ene, de Volmaaktheid van Liefde, Harmonie en Schoonheid, het Enige Wezen
verenigd met alle verlichte Zielen die de belichaming vormen van de Meester,
de Geest van Leiding
sent by Jahangir
in Irish:
Go dti an t Aonar
An te ata an fabhas gra, alights agus harmon
An t Aon Duine
In aonach le gach Ainm soil sun
Ce deanan Corp an Mhaistir
An tSpiroad den treoir.
sent by Lilian
in Welsh (from Wales):
Tuag at yr un
Perfeithrwydd cariad, cynghanedd a prydferthwch,
Yr unig un
Wedi a uno a'r holl enediau goledig
Sy'n creur ymgorfforiad o'r meistir
Ysbrd arweniad
Sent by Shafia in Christchurch, New Zealand
from New Zealand:
Maori Invocation
E mihi ana ki te kotahitanga tapu.
Ko ia hoki te tino taumata o te aroha,
O te whakaaro tahi me te ataahua.
Kaore he tangata ko atu i a ia.
I whakakotahitia ki nga wairua turama katoa.
Ko ratou nei te whakatinanatanga
o ratou kua whetu rangitia
O te ngakau arataki
Sent by Shafira form Christchurch, New Zealand
From Czechia:
K jedinému
k dokonalosti lásky, harmonie a krásy,
k jedinému bytí, spojenému se všemi osvícenými bytostmi,
které tvorí vtelení mistra, ducha, jenž vede
Sent by Renée, Czechia
If you have a text of the invocation in another language please mail this to me.
Thank you very much !
Jahangir